Sport Fitness Everything for those who Love Themselves
At ProSourceFit you can find an infinite range of tools that allow you to be efficient with your body and mind.
Specifically designed to be functional and practical, they put anyone in a position to be fit, naturally through your commitment, you just have to choose the right tool with all the support you need, from ProSourceFit you can find it without having to search long and wide in the boundless digital web.
The service and payments are easy to manage and assistance is always at your disposal for any doubt about the purchase.
Sport and movement are a fundamental element for a healthy and healthy life and what better way to start dedicating some time to yourself, through the use of all that ProSourceFit makes available to all of you.
I myself as a marathon runner have had the opportunity to experience the usefulness of what it offers and as a Professional Soccer technician I have been able to verify how useful it is to use ProSourceFit products to improve athletes' performance.
Browse well the internal catalog you find here and immerse yourself in a world from which you can only benefit immensely.
Toba60
The creators of ProSourceFit speak
INTEGRITY
Open communication and trust develop credibility within our staff, which extends to our relationship with customers.
IT'S NOT ALL ABOUT US
Our gratitude for the earth and our community is expressed through charitable giving and using recycled packing materials and eco-conscious practices.
STAY FIT, STAY HEALTHY, STAY HAPPY
Live the standards we promote with a work culture of health, work/life balance, and practicing fitness together. Fitness leads to happiness, which leads to passion for the products we create and the people who use them.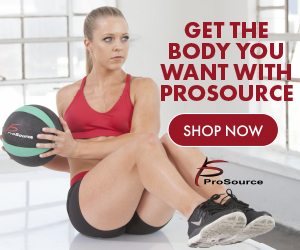 ASK QUESTIONS
A youthful approach to business encourages finding new methods and ongoing innovation
Our Story
ProsourceFit was formed when two friends discovered the life-transforming power of fitness. Desk jobs and commission-based salaries had made them sedentary, stressed and stagnant. Unaffordable gym prices and hectic schedules led them to explore workouts that could be done anywhere – resistance band workouts, yoga, free weights, and high intensity interval training.
With renewed energy, confidence, and positivity from working out, they uncovered a deeper insight – that you can achieve great success in life, but without health, it's hard to be truly happy. Excited to share their discovery with others, they noticed a lack of quality fitness products on the market that were affordable, portable, and accessible. So they started their own company to inspire others and make active, healthy lifestyles easier to achieve.
They began by selling resistance bands online – the only equipment they could afford. As their high-performance equipment took off, they expanded into the extensive line of fitness and recovery products that make ProsourceFit what it is today – a resource for anyone to create their own healthy lifestyle and train like a pro.
Evolution of ProsourceFit
We first opened our virtual doors in 2011, the core focus was on becoming the destination for affordable and professionally sourced products that anyone could use to improve their health. From resistance bands to now selling hundreds of products within 5 fitness gear categories, customers have come to recognize us as the go-to for reliable, affordable and high-quality fitness gear.
We listened throughout the years, and finally in 2018, we decided it was time to change our name. The re-brand is a new take on what fitness means to ProsourceFit and a reflection of the core values we had from day 1, values that we will continue to offer our customers no matter how big we get. We will always be your source for high-quality and affordable "Fit"ness products, so you can train like the pros in the comforts of your home, studio or gym.